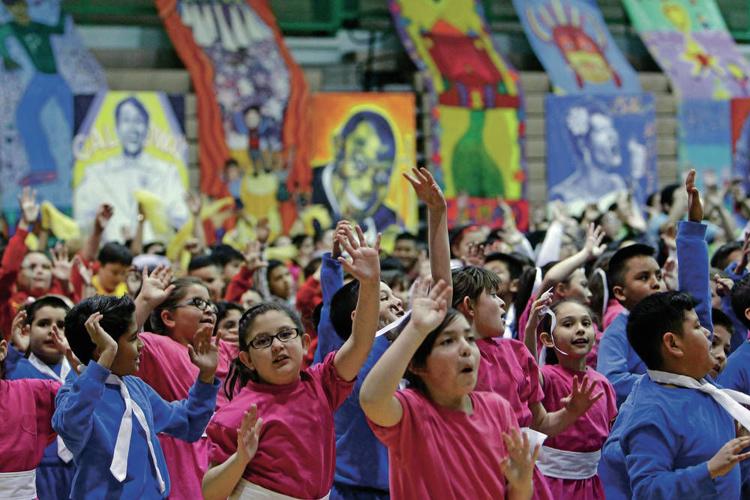 By Andy Stiny
JACONA — Every child wore a costume and a smile as they pranced, twirled and leaped across the Ben Lujan Gymnasium Thursday evening.
The performance, organized by the National Dance Institute of New Mexico, showcased the footwork of more than 600 kids from about 10 elementary schools in Northern New Mexico — from Alcalde to Hernández to Chimayó and, of course, Pojoaque.
NDI New Mexico-North's year-end event, Got Jazz, marked the organization's 20th anniversary of working with students at Pablo Roybal Elementary in Pojoaque.
About 1,000 proud parents and other supporters filled the gym to watch their children perform their second show in a two-night run.
In May, NDI will bring the show to Santa Fe, with performances by about 1,000 kids in the city.
Founded 24 years ago in Santa Fe, the nonprofit dance institute has grown from serving about 100 children at one local school to more 10,000 kids across the state each year through in-school and after-school programs, summer camps and advanced training classes. The organization offers New Mexico children in both urban and rural communities a chance to explore performing arts. Many have become dedicated dance students with the organization and have gone on to professional dance careers.
Two local NDI students — teen boys from Santa Fe and Española — were accepted this week to The Juilliard School in New York.
NDI alumna Erin Lopez, is now a third-grade teacher at Alcalde Elementary, north of Española. She danced in NDI programs from fourth to eighth grade, she said, and believes the experience helps her instill positive character traits in her students.
"It was a wonderful outlet. I would like to think it played a role in shaping my personality and who I am today — kind of what I do as a teacher for these kids."
– Erin Lopez, NDI Alumna 
NDI North outreach artistic director Leslie Stamper said she often hears classroom teachers say the dance programs are "one of the most important things going on in the lives of the children. You hope you are touching their lives in a positive way."
NDI spends months working in schools to prepare students for big shows like Thursday night's affair, teaching them not just dance routines but also about a healthy lifestyle.
The shows themselves are a huge undertaking, requiring help from parent volunteers, classroom teachers and school administrators, as well as coordination with NDI instructors, alumni and the NDI New Mexico orchestra.
Artistic director Liz Salganek and Leslie Stamper were at the gym hours before Thursday's performance, warmly greeting dancers and singers and assuaging any last-minute nerves — including their own.
"There are a lot of moving parts to it, and ultimately, I feel responsible for the success of it all," Stamper said, explaining her anxiety.
She turned to eighth-grader Alexis Martinez, and talked with her about a slight movement glitch in the previous night's show. "I saw you smile and didn't see you get stressed out about it," Stamper said.
She gave a hug to Dante Martinez, 10, from Valley Baptist Academy.
Dante aspires to be a professional dancer, he said, and the NDI program gives him confidence. "I like it because it helps me not be shy and it helps me interact with people, and it's like sort of a balance between church and stuff."
Parent volunteer Karen Martinez of Española, whose daughter Athenagrace has been in NDI New Mexico programs for five years, was helping usher ticket holders to their seats Thursday evening and getting kids ready in the dressing rooms.
Early on, she said, her daughter refused to take the stage during a performance. But now that doesn't happen.
"I don't get nervous anymore,'" Athena grace had told her mother that morning.
"I think it has given her a lot more courage to be up in front of so many people," Martinez said of NDI. "This has really helped her a lot."
Salganek said NDI uses what it calls the Core Four to motivate children: Work hard, do your best, never give up and be healthy.
"We use dance and music as a means to an end, and the end is really that character building experience, she said. "Building life skills that we think apply in the classroom, in future pursuits, whether it's learning how to work hard when you decide to go to college or how to apply yourself when you are looking for a job."
Fun is also a part of the equation.
"When a child is feeling joyful, feeling supported, then they can do a lot," Salganek said. "They don't even realize that they are learning self-discipline and hard work because they are having so much fun."
Just before showtime Thursday, Stamper got the 600 squirming children ready to go onstage by calling out, "Are you going to shine tonight?"
The kids answered: "Yeah!"