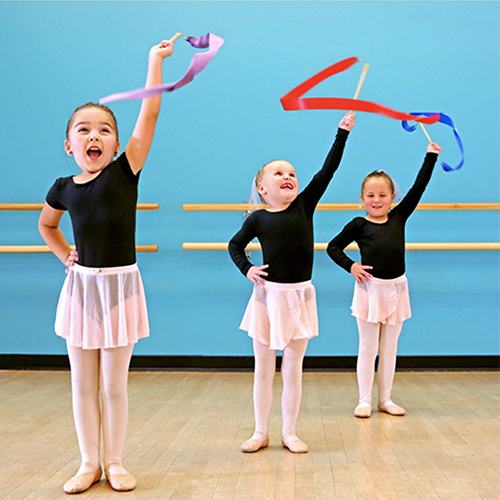 CREATIVE MOVEMENT
Creative Movement gives dancers ages 3-4 a joyful way to experience movement, music, and self-expression at a young age. In this energetic 45-minute class dancers will explore different rhythms, shapes, and movement qualities as well as follow a structured progression of basic steps and combinations. It is a fun prelude to our "Primary Dance" classes while continuing to develop motor and social skills to promote self-confidence! We do ask that a parent/guardian is present during class time.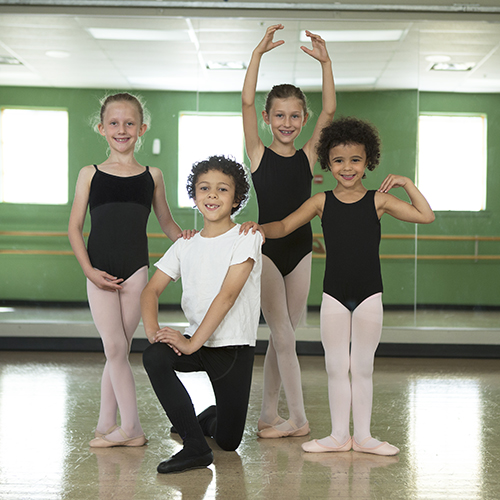 PRIMARY DANCE 
Primary Dance is a 1-hour class that is perfect for dancers ages 5-8 looking for an introduction to a variety of dance experiences!
Pre-Ballet classes introduce students to the art of ballet at an age-appropriate pace. Young dancers learn basic ballet positions, vocabulary, and studio etiquette while focusing on improving coordination and musicality.
Pre-Jazz/Tap classes are high-energy and get you moving different parts of your body like your head, shoulders, hips, and feet. Dancers will learn basic jazz & tap steps while focusing on rhythm and musicality.
Pre-Hip Hop is a fun and lively class. Under the guidance of our experienced and fun instructors, the students will be exposed to multiple dance trends of hip hop and freestyle.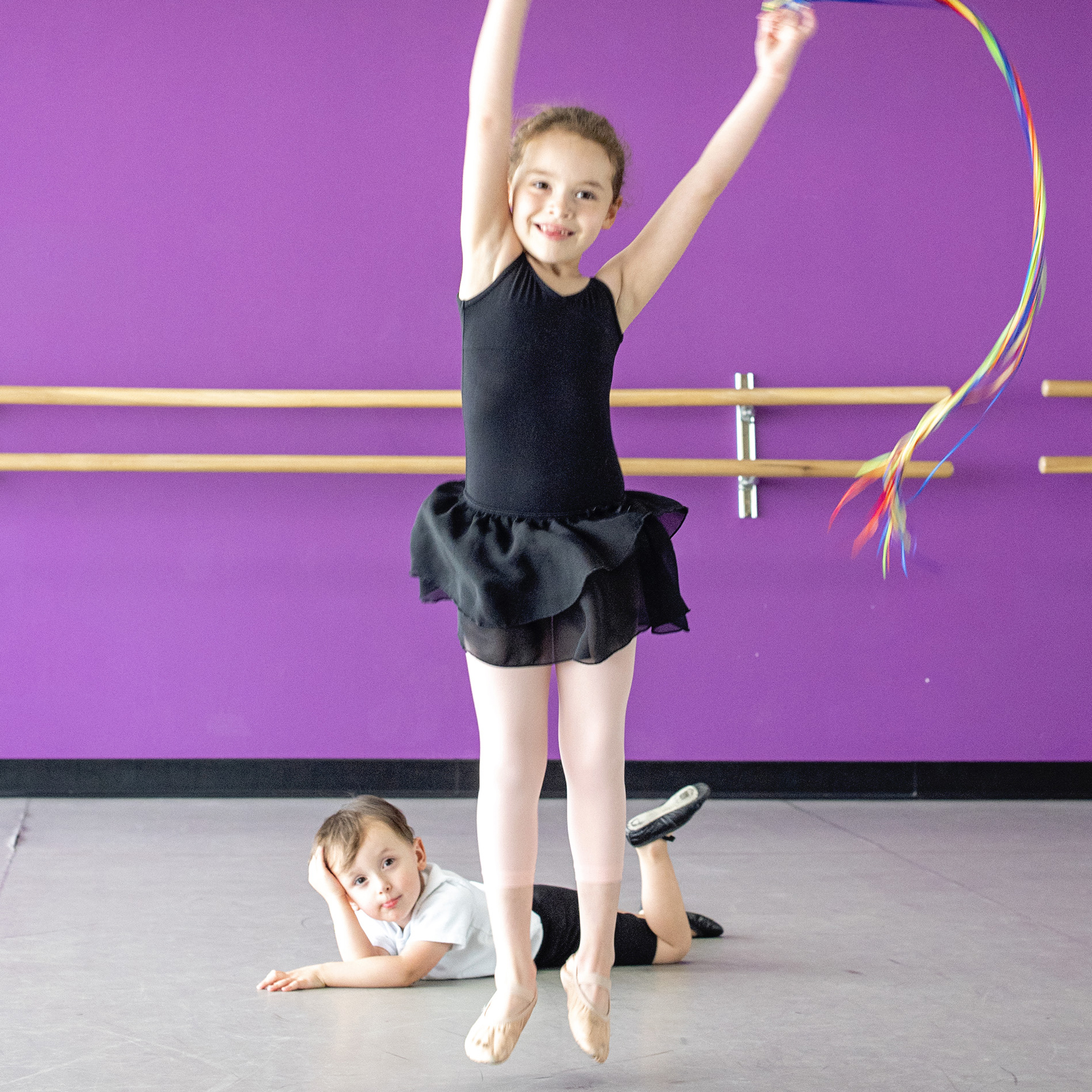 MINI MOVERS
This is fun free flowing class for students who want to move and explore a variety of different types of dance. For ages 5-8.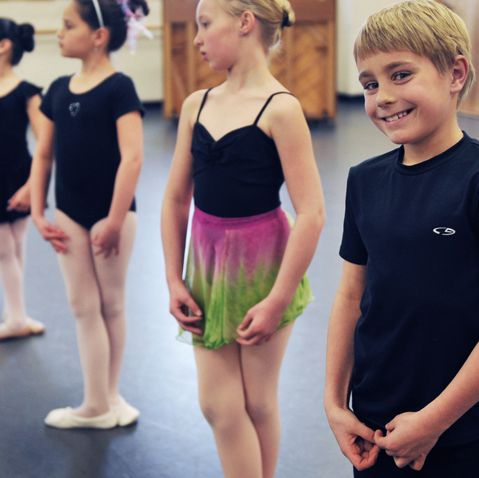 BALLET
LEVELS IA, IB, II, III
Our progressive ballet curriculum concentrates heavily on working within each dancer's physical abilities without placing stress on their joints or ligaments for injury prevention. Our faculty stresses the importance of building musicality and expressiveness inside the classroom as we believe this enhances our dancers' overall experience when performing onstage. We believe that ballet is an essential piece when studying other forms of dance, so we strongly encourage our dancers to take ballet classes in addition to other dance styles starting in level two and up.
*Please Note: Students should expect to stay in the same ballet level for approximately two years or more, especially if time off is taken over the summer. Advancement to the next level is only upon the recommendation of the current instructor.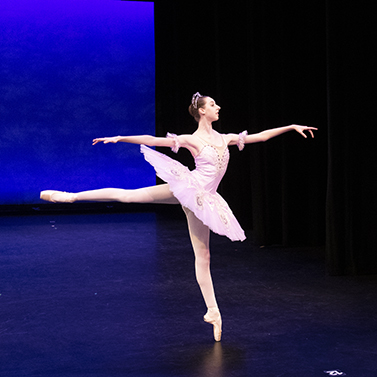 POINTE
LEVELS II, III
NDI New Mexico has strict requirements for starting pointe work, so the dancer is physically protected from injury. NDI New Mexico instructors take into consideration the age of the dancer as well as the dancer's ability. However, because the growth of the foot is nearly complete at age 11 or 12, we tend to promote and introduce pointe work at that time. For the safety of the child, it is very important they do not attempt to dance on pointe if an instructor advises you to wait, as it is easy to become injured. A dancer must have adequate time to achieve the proper form, strength, and alignment needed to make a successful transition into pointe work. In order to maintain proper technique and flexibility needed for pointe work, it is imperative to practice ballet formally at least 3 times per week. All dancers will be formally evaluated by the team of ballet instructors at NDI New Mexico to determine if they are physically ready to meet the demands of pointe work. We are looking for correct body position and alignment, sufficient turnout, strength and balance, ankle strength, ankle flexibility, and mastery of basic ballet techniques.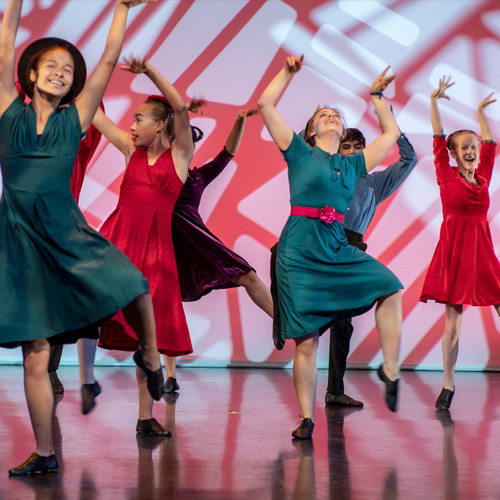 JAZZ
LEVELS IA, IB, II, III
Jazz is a class for dancers interested in exploring the style of Jazz Dance. Jazz I & II are meant to complement the Musical Theatre I class for students age 7-11 (Jazz I) and 12+ (Jazz II). This curriculum is based on the practices of such master as Gus Giordano, Bob Fosse, Jack Cole and Luigi, all with strong roots in Musical Theatre. This class emphasizes style in addition to technique. We practice across-the-floor with leaps and turns that support the techniques of modern jazz today. This class will work with the Musical Theatre I class. Participation in Musical Theatre is recommended, but not required.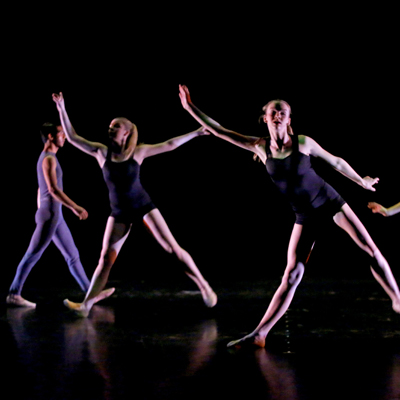 CONTEMPORARY JAZZ
LEVEL II
Contemporary Jazz builds off the foundation of Jazz technique while incorporating elements of commercial dance and a variety of other styles. Infused with elements of Ballet, Modern and Urban Dance.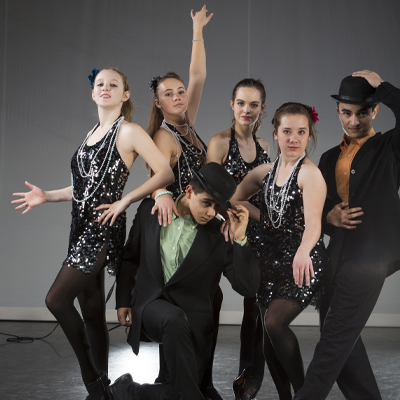 MUSICAL THEATRE
LEVELS I, II
Musical Theatre at NDI New Mexico is a one-of-a-kind musical theatre class for kids ages 7-11 (MT I) and ages 12+ (MT II). Students will study the work of the actor/singer and use their gained knowledge to develop as performers. Students will prepare and present as soloists as well as members of small groups and larger ensembles. This class promotes confidence, discipline, basic vocal technique, and improvisation ability, and teaches young performers all about life on the stage! This class will work with the Jazz I (ages 7-11), and Jazz II (ages 12+) classes to provide the Dance component of Musical Theatre. Participation in Jazz I is highly recommended.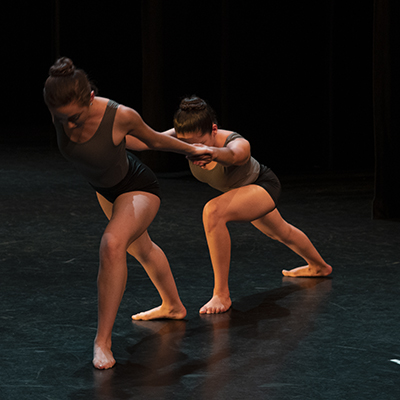 MODERN
LEVELS I, II, III
Modern dance explores basic movement concepts such as over/under curve of the pelvis, contraction/release of the torso, and articulation of the spine. It also emphasizes the use of the floor for centering, grounding oneself in movement, and focusing on the breath (inhale/exhale), which brings quality to one's movement. NDI New Mexico instructors incorporate a blend of classical modern techniques such as Graham, Humphrey, Limon and Horton into each of their classes. Modern tends to incorporate improvisation, modern dance history and basic kinesthetic awareness. We strongly recommend modern classes for all ballet students.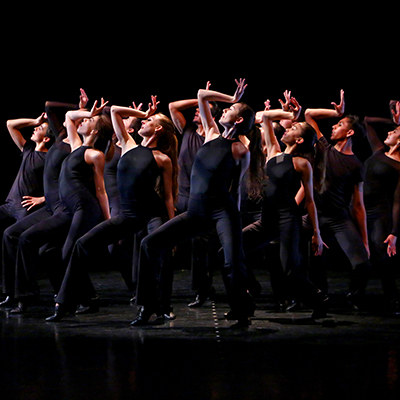 CONTEMPORARY
LEVELS IB, III
Contemporary Dance at The Hiland is a progressive fusion of codified dance techniques and styles from ballet, jazz and modern as well as cultural movement languages. The Contemporary Dance Classes offer strong technical training and movement process intended to cultivate the individual voice of each student. We highly recommend taking Contemporary in addition to other forms like Ballet & Modern.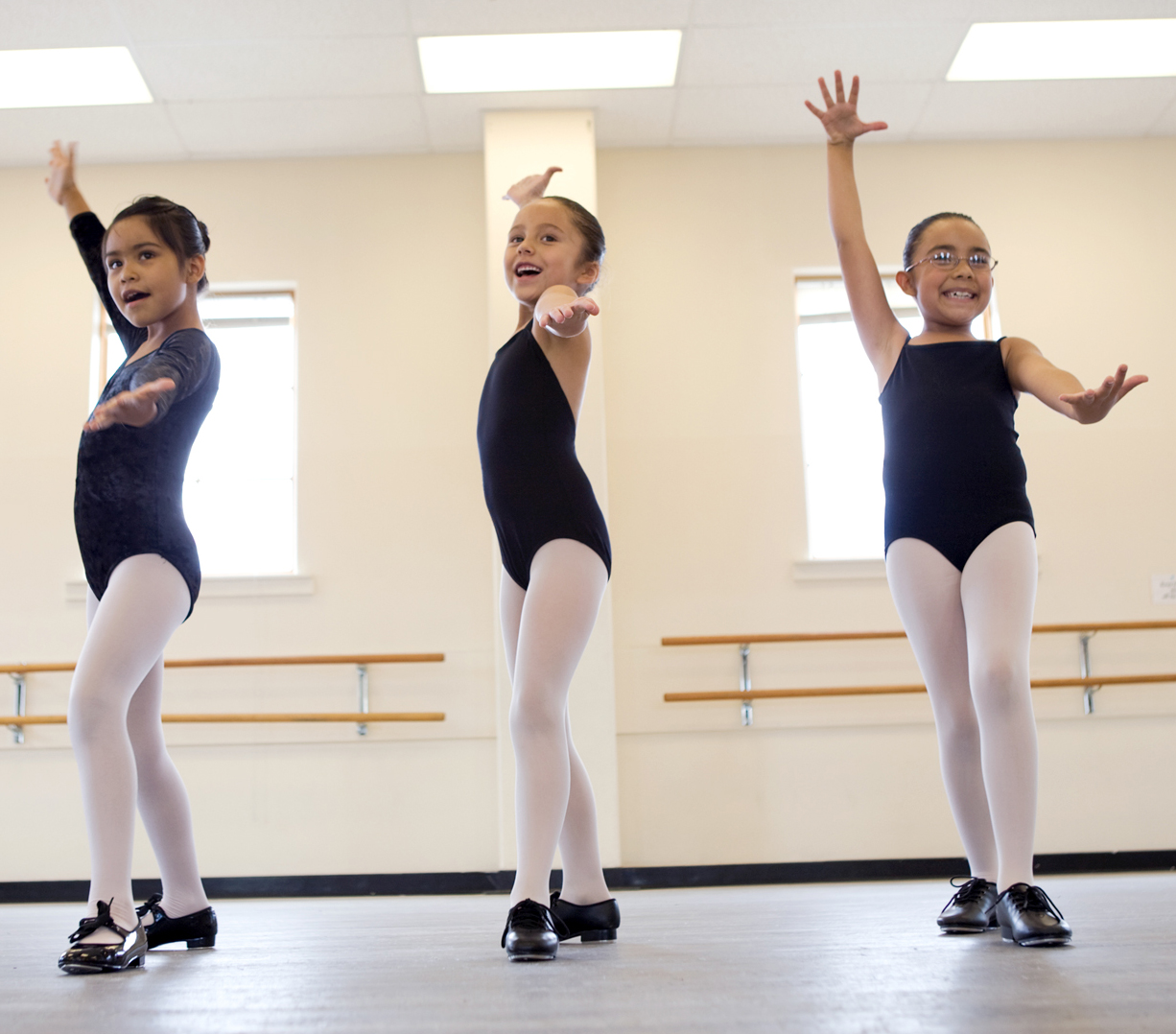 TAP
LEVELS I, II & III
Classes focus on the fundamentals of rhythm tap, including solid technique, classic and contemporary tap repertory, and improvisation skills.
Urban Dance Programming at The Hiland Theater
Hip hop is a cultural movement that incorporates four foundational elements: DJing/turntablism, MCing/rapping, B-boying/breaking, and visual/graffiti art. These forms of expression have developed into further subcultures with lasting legacies.  
BREAKING
By Age
Breaking is the foundational movement language of hip hop. Breaking is a style of street dancing that incorporates coordination, acrobatic and intricate body movements, style, and aesthetics. It evolved from the hip hop movement during the early 1970s and is the most widely known of all hip hop dance styles. Breaking is the foundational movement language of hip hop dance. Classes focus on musical training and building foundational movement in a fun and supportive environment. This class should be registered for by age as all classes learn the same foundational language. No dance experience is required for this class. We highly recommend taking Breaking and Hip hop classes together.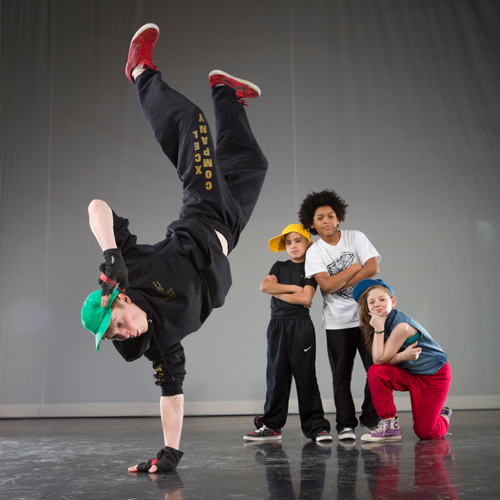 HIP HOP
LEVELS I, IB, II & III
Hip hop uses the foundations of breaking and incorporates a wider range of styles including more commercial styles and set choreography.